June 2023 Wildlife Report
Welcome back to a super "Cool" update on our adventures here in the Klaserie Private Nature Reserve. I will be covering all the thrilling sightings that happened during June 2023.
Winter is here in full force. Which means it is that time of year where we pull out the hot water bottles, blankets, gloves and a nice warm tea, coffee, or hot chocolate to start our mornings off. Most of the trees have dropped their leaves, the grass has thinned out. But surprisingly the bush still has a lot of greenery left for the animals. But non the less, the days can still get hot with temperatures rising till 30'C.
Game Drives have been spectacular, with the bush that has thinned out, it makes game viewing a little easier. Waterholes have been quite productive. This will serve as a great water source in the winter as the little wallows and puddles have dried up. The Klaserie River still has a narrow stream of cold clean water, making it a great spot for game viewing.

We have had many different visitors around the lodge from baboons, vervet monkeys, impala, zebra, giraffe, elephants and even lions and leopards. The Hyena's have also been very busy and mischievous. They have been making themselves at home stealing our dustbins and pillows

All images in this article were taken by AD van Zyl @vanzyl_captures, Assistant Manager and Stefan Breuer, Owner.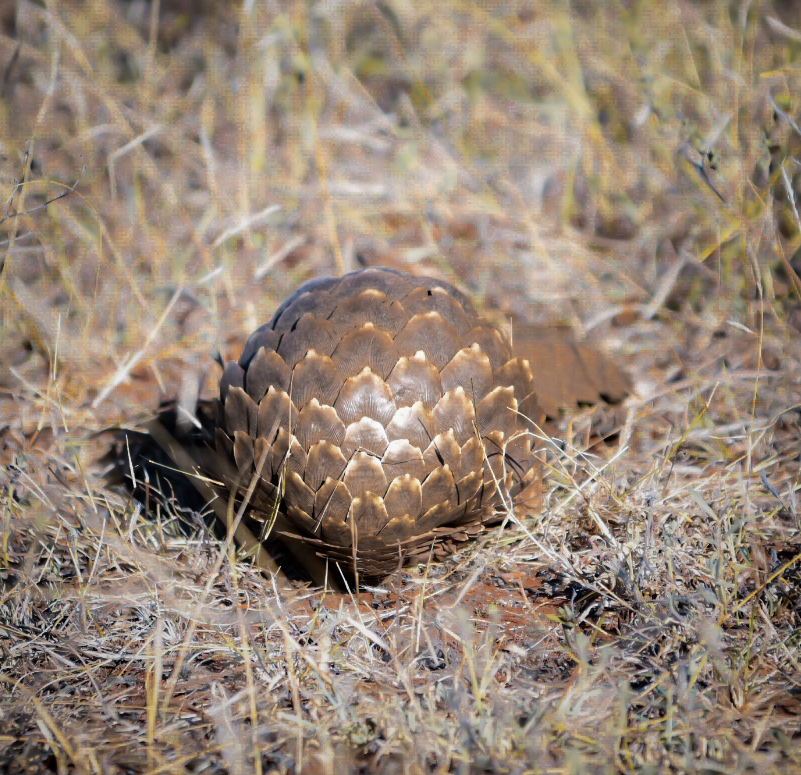 PANGOLIN:
When people refer to a once-in-a-lifetime experience, this should be way up on that list. Spotting a pangolin in its natural habitat is truly rare and very lucky.
Pangolins are usually nocturnal animals. But can be seen during the day, especially on a cool cloudy day during the dry season. Our guide noticed the guests were whispering in the back of the car explaining they saw something move but looked like a rock. Luckily the guide asked about it and reversed and what a lucky encounter. There was a pangolin walking right next to the road. I think the guide was more excited than the guests as they were not too familiar with this animal.
Many people can't say that they have seen a Pangolin even once in their entire lives. So, the guide and guests really soaked up the moment and enjoyed every second of it. There were plenty of jealous staff members back at camp. But they were more excited for the guests to have witnessed what many other dreams of.
LION:
While on a sundowner drink stop, we heard a lion roaring in the distance. This was clearly territory calling and we quickly packed up our drinks and headed in that direction. To our luck we found a big male lion walking along the river road that runs behind our lodge. He was a majestic male with a gorgeous big mane and strong vocal cords. A real king of the bush. We followed him for a while and were so excited when he made a turn onto the Makumu road leading us straight into our staff quarters. Now we can truly say he was right on our doorstep.
We had to make sure that all staff were safe and indoors as the lion took his time smelling around and familiarizing himself with the campgrounds. Almost as if making himself at home. Quite a while later he wandered off and we hopped off ready to enjoy a hot meal after quite the exciting end to a drive.
ELEPHANT:
Our gentle giants have been providing us with amazing sightings. They have been active around the lodge and by our local pan right in front of the lodge. Our guests have had a couple of breakfasts and dinners with our honorary guests joining.
We have also had amazing encounters with the elephants at our famous photographic bunker Ithumbela. It is such an amazing experience sitting inside the bunker and viewing these giants from eye level. And if you are lucky you might even get sprayed with mud.
BUFFALO:
As we were enjoying dinner one night, we heard a noise in the distance of the bush. We all got up to inspect the noise and far in the dark distance, we could so a lot of eyes. It was a large herd of buffalo moving closer to the lodge pan.