Makumu's Recipe book!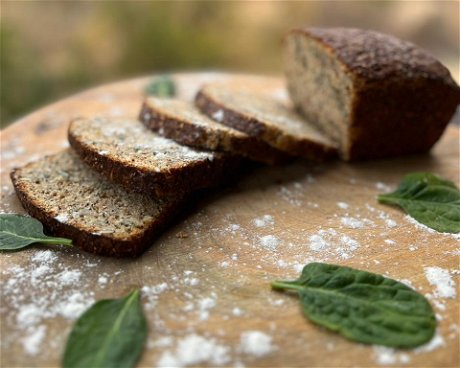 Whole Grain Seeded Bread
Ingredients:
3 cups wheat flour 
3/4 cup mixed seeds (sunflower, pumpkin, poppy) 
1/2 jungle oats 
3 tbsp butter 
2 tbsp sugar 
1 tbsp salt 
3 1/2 cup inkomasi/buttermilk 
1 eggs 
1 sachet instant yeast 
Method:
Mix all dry ingredients together with wooden spoon. 
On the stove heat up your inkomasi/buttermilk, butter, and egg. Don't not bring to boil.
Mix the dry ingredients with the heated ingredients. 
Leave dough to rice double in size.  
Spray bread pan with a nonstick spray.
Place/fit dough in bread pan 
Bake at 180 degrees Celsius for 40-50 minutes.  
Test with knife in the middle, no dough should stick to the knife otherwise let a bake for a couple for minutes.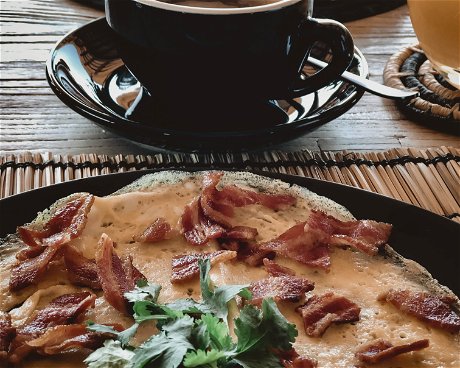 Makumu Flat Egg
One of the many to-do's at Makumu Private Game Lodge is to have the Makumu Flat Egg for breakfast.
Ingredients:
1x egg
3 x strips of crispy bacon
Salt and pepper to taste
Oil/Butter
Fresh Parsley
Method:
Grease up your pan with oil/butter or use a non-stick pan.
Crack the egg into a small bowl and scramble with a fork, add salt and pepper to taste.
Pour the egg mixture into the warm pan and leave the egg to cook.
Once the egg is cooked remove with an egg lifter into your serving plate.
Cut up the crispy bacon and add it on top of your flat egg.
Use fresh parsley as garnish.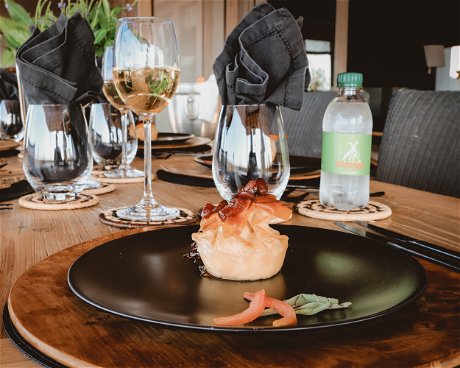 Three Cheese Parcel with Cranberry sauce
Serves 4
Ingredients:
16 x 20cmx20cm phyllo pastry sheets
1 x 250g mozzarella
1 x camembert
1 x brie
200g dried cranberries
100ml orange juice
2 tbs sugar
Egg wash (1 egg scrambled)
Spray n cook or non-stick spray
Method:
Cheese Parcel
Preheat your oven to 180ᵒC
Grease up your muffin pan with your non-stick spray.
You will need 4 x phyllo pastry sheets for one cheese parcel. Brush each sheet of phyllo pastry with the egg wash.
Line each muffin pan with phyllo pastry so that it forms flower like cups.
Split your cheeses into 4 and divide them equally among your phyllo pastry flower cups.
Close your flower cups once cheese is added.
Bake at 180ᵒC for 15 min.
Remove from oven and top with your cranberry sauce. Serve hot.
Sauce
Prepare a pan.
Add the dried cranberries/sugar and orange juice to a pan and heat up until it has a sticky texture.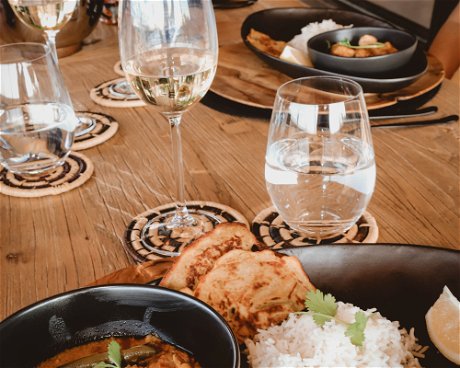 Kingklip Curry with Rice
Serves 4
Ingredients:
600g kingklip fresh, cubed
220g white onions large, grated
3 Tbs oil
4 garlic cloves, grated
2 Tbs curry powder, medium
1 fresh chillies, chopped
2 fresh tomatoes, chopped
200g cashew nuts
250 ml water
1/2 tsp salt
fresh coriander
1 cup Jasmine Rice
Method:
Heat the oil over medium heat in a large pan and fry the onion for 5 minutes.
Add the garlic, and curry powder and fry for 3 minutes.
At this stage, if you need a bit of extra oil… add another tablespoon.
Add the fresh tomatoes, water and salt and let it simmer for around 8-10 minutes.
Add your kingklip, and cashews and simmer for 10 minutes until the kingklip is cooked through.
Do not stir it again otherwise, the kingklip blocks will fall to pieces.
Scoop this curry from the pan on top of rice, add lots of coriander and enjoy.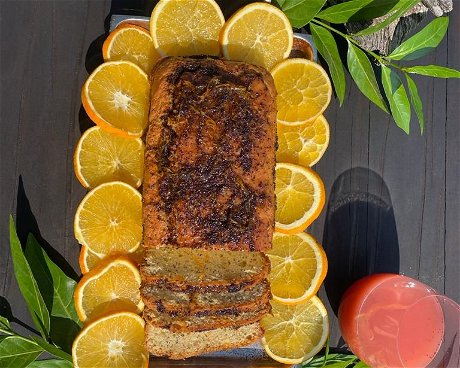 Poppy seed and Citrus Cake
Batter:
125 g butter, plus extra for greasing
250g castor sugar
2 eggs
Zest of 1 large lemon
375 ml self-raising flour, plus extra for flouring
125 ml milk
2 t vanilla paste
1 t ground cinnamon
125 ml poppy seeds
Sauce:
Juice of 1 lemon
250 g castor sugar
250 ml water
Zest of 2 oranges
Zest of 2 lemons
Zest of 2 limes
Method:
Preheat the oven to 180 deg C/Gas 4, and butter and flour a round cake tin. It is also a good idea to line the tin with a round of buttered paper.
To make the batter, cream the butter and castor sugar before adding the eggs, one at a time. Beat well.
Stir in the zest, flour, milk, vanilla paste, cinnamon and poppy seeds, and mix really well.
Spoon the dough into the cake tin and bake for about 35 minutes or until a skewer comes out clean.
Allow the cake to rest for a while before turning it over onto a cooling rack.
To make the sauce, combine the lemon juice, castor sugar and 250 ml water in a small pot. Bring to a gentle boil and allow the sugar to melt before adding all the zest.
Keep reducing the liquid until it is wonderfully syrupy and the zest is completely glaze and almost transparent.
Place the cake on a serving platter and spoon the very-warm syrup over it.
To decorate, pile the zest a heap in the middle of the cake.
Enjoy!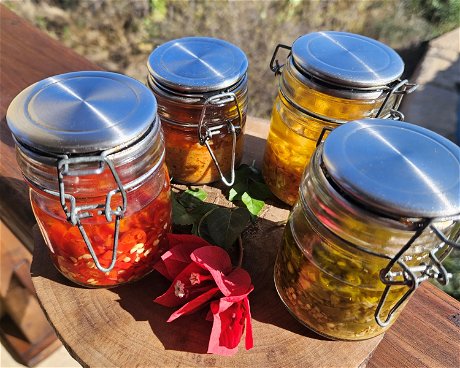 Makumu's Special Chilli
Ingredients:
A handful of green, red, and yellow chilli peppers
2 whole garlic cloves, peeled
1/2 cup olive oil, divided
1/4 cup vinegar
1 tablespoon chicken spice
1 tablespoon BBQ spice
Instructions:
Prepare the Chili Blend:
Place a handful of green, red, and yellow chilli peppers in a blender.
Add 2 whole peeled garlic cloves to the blender.
Blend the chilli peppers and garlic until smooth.
Add Olive Oil and Vinegar:
Pour 1/2 cup of olive oil and 1/4 cup of vinegar into the blender.
Blend the mixture again until well combined.
Heat the Oil and Spice Mixture:
In a saucepan, heat 1/2 cup of olive oil over medium heat.
Add 1 tablespoon each of chicken spice and BBQ spice to the heated oil.
Stir the spices in the oil and allow them to infuse for a minute.
Soak the Chili Blend:
Carefully pour the blended chilli mixture into the hot oil and spice mixture in the saucepan.
Reduce the heat to low.
Allow the chilli blend to soak in the hot oil for 2 minutes, stirring occasionally.
Serve or Store:
After 2 minutes, remove the saucepan from the heat.
Let the spicy chilli oil cool down.
Transfer the chilli oil to a sterilized jar or bottle.
Store in the refrigerator for future use.
Note: Use this spicy chilli oil as a condiment or flavour enhancer for various dishes. Adjust the number of chilli peppers according to your desired level of spiciness. Enjoy responsibly!